PUBLISHED 7/2014
BZ Large Carnivore
Senior Keeper
When we look back on our childhood, there are not many of us who can say that we are doing what we wanted to do since we were a kid, but Christy is one of those lucky few.  Being an animal keeper is her dream job and she has been plying her trade since she graduated from Purdue University with a Bachelor of Science Degree in Biology.
Christy's career started out at the Fort Worth Zoo in Texas back in May 1986 working as a mammal keeper.  That department included primates, hoofstock, carnivores, marsupials, bats, canids, small mammals and even some birds.  Knowing that Christy was moving back to Chicago, the Fort Worth Zoo wanted to give her the opportunity to work with a diverse number of species to assist her in getting a job.  That background work would influence her greatly in her future endeavors.  One of her favorite memories at the Fort Worth Zoo was her opportunity to bottle feed a baby Orangutan named Jeret that was being hand raised.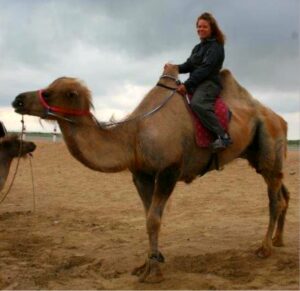 In 1987 she moved back to Chicago and was married in 1988. In the Chicago area she worked for a couple of different vets doing kennel work, being a vet tech, and handling the receptionist duties.  But being a keeper was her goal and she began talking with curators in the Brookfield Zoo mammal departments while continuing to apply every year until she was hired for a seasonal job in September of 1990 in the old Small Mammal House.  Her career with Brookfield Zoo continued to progress as she advanced to full time status in December of 1991 as a Small Mammal Keeper.
In the summer of 1993 Christy was sent over to the Bears as a trial led to a career that has lasted for 21 years.  Today she is a Brookfield Zoo Larger Carnivore Senior Keeper which includes Bears and Big Cats.  One of her most rewarding experiences was successfully raising a polar bear cub, Tiguak, in 1999-2000. Additionally, she has also been a relief night keeper, relief keeper at Australia House and a relief keeper in both the Forest and Desert areas of Fragile Kingdom.  It appears she made excellent use of her Fort Worth Zoo experiences.
While she was at Brookfield Zoo Christy continued with her education, earning a Master of Arts degree in Zoology from Miami University.  That education is something that she likes to share with the guests at Brookfield Zoo.  Even though being a keeper was and is her dream job, she has found that educating the guests about how they can help locally to make a difference with global problems like climate change is now one of her goals.  She knows that the animals she cares for at Brookfield Zoo are the ambassadors for their wild counterparts and working with and talking about them assists her in educating people about climate change and reducing their carbon footprint.
Christy joined AAZK back in 1985 after graduating from Purdue University to assist in finding a zoo job.  She joined the Brookfield AAZK chapter in 2009 after a number of her fellow keepers started up the chapter.  The "Trees for You and Me" AAZK annual Chapter competition was started by Christy and one of her fellow Polar Bears International Field Ambassador from the Columbus Zoo. "Trees for You and Me" raises money to plant trees to help the environment which eventually helps polar bears. She is the National AAZK and Brookfield AAZK Chair/Point Person for this event and recently was invited to join the National AAZK Conservation Committee.
As a Brookfield AAZK member she had the opportunity to travel to Idaho with a group of Brookfield AAZK members when Vital Ground invited them to see the land and habitat they are working on for saving the Grizzly Bears.  The Brookfield AAZK chapter raises funds for Vital Ground through its annual Spaghetti Dinner.
When asked what her favorite AAZK activity might be, she indicated that the AAZK National Conference, which travels around the country every year, tops the list.  She responded that "you learn so much meeting and talking to fellow zoo keepers from around the country."
AAZK publishes a monthly magazine called Animal Keeper Forum to its members.   2014 is the 41st year of this publication.  The magazine contains regular columns on Animal Behavior, Enrichment Options, Crisis Management and legislative issues affecting wildlife and zoos. Each issue also contains articles on animal husbandry, book reviews, a listing of upcoming conferences and symposia, and Association news. Christy's research paper titled, "Investigating Hormonal Correlates of Seasonal Stereotypic Swimming in a Male Alaska Brown Bear (Ursus arctos)" was published in the AKF magazine.   The study involved looking into testosterone and corticoid "stress" hormone levels in relationship to Axhi's (one of the two Alaska Brown Bears at Brookfield Zoo) stereotypic swimming that he developed from April – September. AAZK provided Christy with a grant to help fund this research.
Outside of the zoo she has been a Field Ambassador and Volunteer since 2008 for Polar Bears International and was in Douglas Creek, Alaska one year assisting with a Brown Bear research project.  In addition, she serves on the executive committee for her local Sierra Club, the Sauk Calumet Group, focusing on Cool Cities.  The executive committee helps set statewide priorities and provides direction for the Sierra club staff.  The Cool Cities program was developed to help communities and their public officials set goals to find local solutions to climate disruption by cutting greenhouse gases.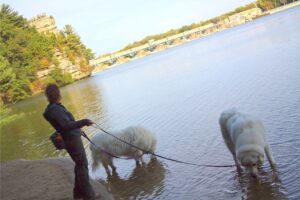 In her free time Christy loves to, bike, hike, and take her Great Pyrenees for walks. She also loves to travel.  Her extensive travels have taken her to Rome, Churchill, Svalbard and Norway, Mongolia, New York City, southern California, Banff and Jasper Parks in Canada, eastern Canada, and an impressive number of National Parks in the United States including the Badlands, Yellowstone, Tetons, Denali, Death Valley, Glacier, Glacier Bay, and Acadia just to name a few.  This summer she will be traveling for the fourth time to Alaska for a relaxing vacation.