Brookfield Zoo is the home base for the Brookfield AAZK Chapter.  Our membership is comprised of Zoo Keepers, Volunteers, and Brookfield Zoo Staff.
Find Out How You Can Take Action for Conservation. 
Donate to the Conservation Fund.
Animal Care & Conservation Fund: You Can Help!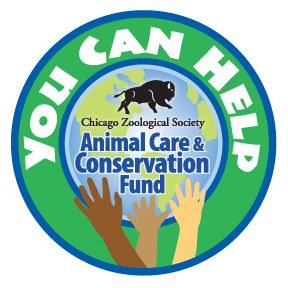 Money raised through the Conservation Fund goes toward the Chicago Zoological Society's conservation research and education efforts at Brookfield Zoo and around the world providing funding for two major programs:
Center for the Science of Animal Welfare

: this ground-breaking program advances and improves world-wide animal management and welfare by integrating veterinary medicine, nutrition, enrichment, endocrinology, behavioral monitoring, and animal husbandry.

Center for Conservation Leadership

: this award-winning program connects and engages people in conservation and provides educational opportunities for teachers, students, and under-served communities here and around the world.